Our most popular products.
Wholesome health food cafe & organic grocer.
We are Proserpine's first health food cafe & organic grocer. As a small family owned business we are committed to sourcing and supplying the community with only the finest health foods, tonics, supplements & natural products.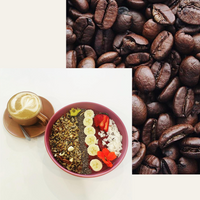 "Healthy Haven is a hidden gem in the Whitsundays. With great service, a substantial variety of health food products & supplements. The cafe food is fresh, delicious & offers a great selection."
Eat real food with us.
We're a lot closer than you think, our health food cafe is located in the Main Street of Proserpine, Whitsundays, QLD. We're open 7 days a week and happily serving you our delicious Healthy Haven coffee from 7am weekdays and 8am on weekends.
View Our Menu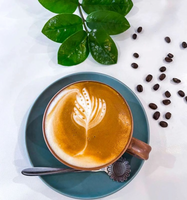 Love our Healthy Haven coffee?
Our coffee is organic high grown chipas coffee derived from Mexico. Offering a delicious dark chocolate, roasted nut and smooth malt taste. Our coffee is roasted & packed in Australia from imported raw coffee beans.
Our Healhy Haven coffee is now available to purchase for you to enjoy in the comfort of your own home, grab yours in store or online.
SHOP NOW
Visit our organic grocer.
Introuducing our organic grocer, the newest addition to our Healthy Haven store in Proserpine.
Help us on our mission to reduce waste & eliminate single use plastics. Grab your glass jars, refillable containers, envirobags & reusable cups & shop the more sustainable way with us.
Stocking a wide variety of organic bulk foods, locally grown produce, house made superfoods & latte powders, environmentally friendly cleaning products, shampoos, conditioners & lotions.
Chat with our holistic practitioners.
Looking for some holistic natural medicine pathways to assist your healthy lifestyle? Telluric Health is our sister business located just next door to our cafe in Proserpine.
Our holistic practitioners include a Nutritionist, Naturopath & Massage & Beauty Therapist.
Book your private consultation with one of our natural health experts today to start your journey to a healthier you.
Enquire Now
Our handpicked collections.
Loved by our community.
Lunch today was delicious, as was the banana berry smoothie. Many of the health food grocery items are staples in our home pantry.The seating inside is relaxed, modem and a great viewpoint to watch the world go by outside.What a fantastic addition for Proserpine.

Karen
We stepped into this gem of a shop during our travels through NQ and was pleasantly surprised by the extensive healthy options available. The service was super friendly and welcoming which was greatly appreciated after many hours driving. The coffee and turmeric latte simply perfect. Highly recommend a visit to this health store.

Nikki
I can't believe this place exists in Proserpine! They have tons of options - vegan lasagne, salads, wraps and rolls, slices and cakes, smoothies, plus tons of vegan items in the store part.

M.J